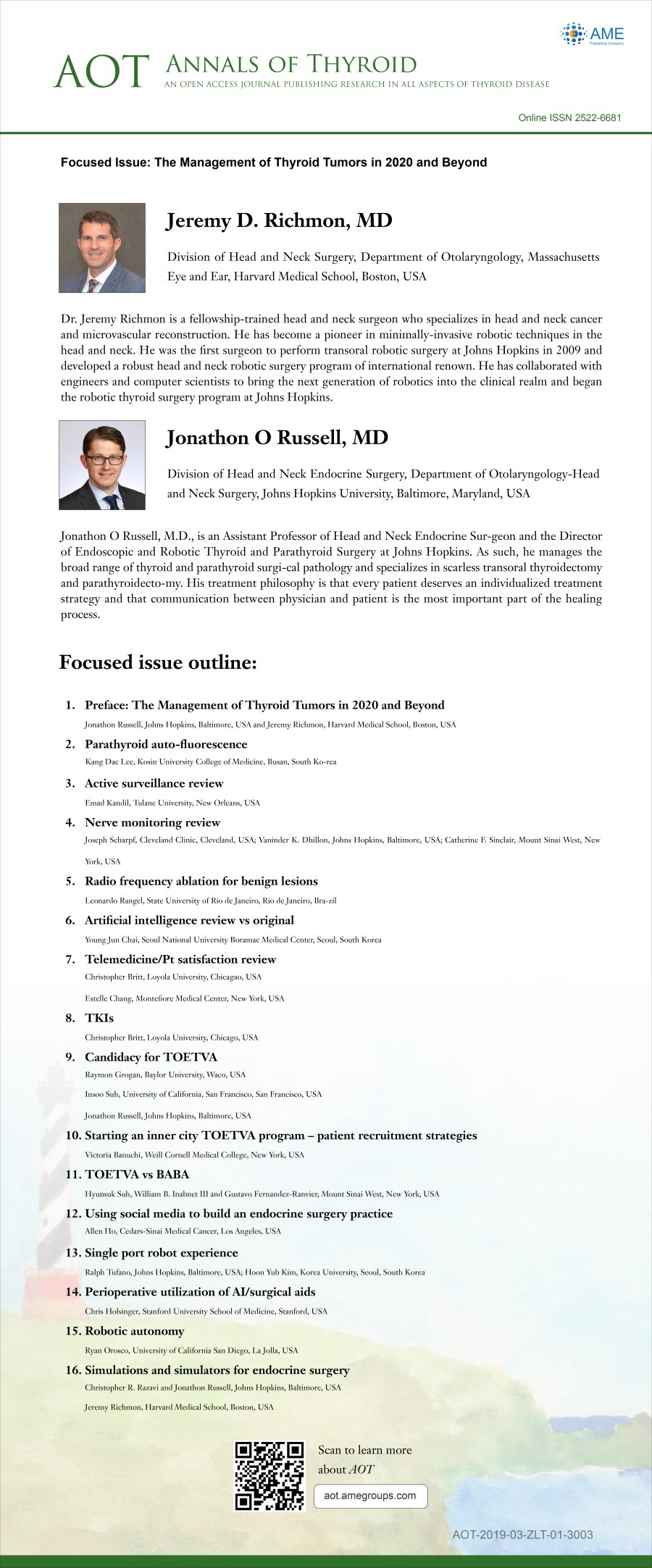 This focused issue on "The Management of Thyroid Tumors in 2020 and Beyond" is edited by Dr. Jeremy D. Richmon, from Department of Otolaryngology, Massachusetts Eye and Ear, Harvard Medical School, Boston, MA, USA; and Jonathon O Russell, from Department of Otolaryngology-Head and Neck Surgery, Johns Hopkins University, Baltimore, MD, USA.
Dr. Jeremy Richmon is a fellowship-trained head and neck surgeon who specializes in head and neck cancer and microvascular reconstruction. He has become a pioneer in minimally-invasive robotic techniques in the head and neck. He was the first surgeon to perform transoral robotic surgery at Johns Hopkins in 2009 and developed a robust head and neck robotic surgery program of international renown. He has collaborated with engineers and computer scientists to bring the next generation of robotics into the clinical realm and began the robotic thyroid surgery program at Johns Hopkins.
Dr. Jonathon O Russell is an Assistant Professor of Head and Neck Endocrine Surgeon and the Director of Endoscopic and Robotic Thyroid and Parathyroid Surgery at Johns Hopkins. As such, he manages the broad range of thyroid and parathyroid surgical pathology and specializes in scarless transoral thyroidectomy and parathyroidectomy. His treatment philosophy is that every patient deserves an individualized treatment strategy and that communication between physician and patient is the most important part of the healing process.
Focused issue outline:
Preface: the management of thyroid tumors in 2020 and beyond
Jonathon Russell, Johns Hopkins, Baltimore, USA and Jeremy Richmon, Harvard Medical School, Boston, USA
Parathyroid auto-fluorescence
Kang Dae Lee, Kosin University College of Medicine, Busan, South Korea
Active surveillance review
Emad Kandil, Tulane University, New Orleans, USA
Nerve monitoring review
Joseph Scharpf, Cleveland Clinic, Cleveland, USA
Vaninder K. Dhillon, Johns Hopkins, Baltimore, USA
Catherine F. Sinclair, Mount Sinai West, New York, USA
Radio frequency ablation for benign lesions
Leonardo Rangel, State University of Rio de Janeiro, Rio de Janeiro, Brazil
Artificial intelligence review vs original
Young Jun Chai, Seoul National University Boramae Medical Center, Seoul, South Korea
Telemedicine/Pt satisfaction review
Christopher Britt, Loyola University, Chicagao, USA
Estelle Chang, Montefiore Medical Center, New York, USA
TKIs
Christopher Britt, Loyola University, Chicago, USA
Candidacy for TOETVA
Raymon Grogan, Baylor University, Waco, USA
Insoo Suh, University of California, San Francisco, San Francisco, USAJonathon Russell, Johns Hopkins, Baltimore, USA
Starting an inner city TOETVA program – patient recruitment strategies
Victoria Banuchi, Weill Cornell Medical College, New York, USA
TOETVA vs BABA
Hyunsuk Suh, William B. Inabnet III and Gustavo Fernandez-Ranvier, Mount Sinai West, New York, USA
Using social media to build an endocrine surgery practice
Allen Ho, Cedars-Sinai Medical Cancer, Los Angeles, USA
Single port robot experience
Ralph Tufano, Johns Hopkins, Baltimore, USA; Hoon Yub Kim, Korea University, Seoul, South Korea
Perioperative utilization of AI/surgical aids
Chris Holsinger, Stanford University School of Medicine, Stanford, USA
Robotic autonomy
Ryan Orosco, University of California San Diego, La Jolla, USA
Simulations and simulators for endocrine surgery
Christopher R. Razavi and Jonathon Russell, Johns Hopkins, Baltimore, USA
Jeremy Richmon, Harvard Medical School, Boston, USA